Why is this Family Smiling?
Meet Shannon! Shannon is married and stays busy raising her three children while working full-time as a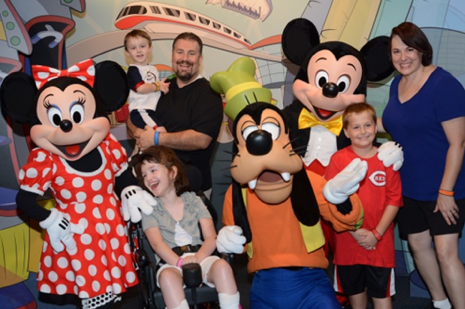 teacher. Given her busy schedule, she never felt like she had time to exercise and really take care of herself. After becoming a mother, Shannon developed some unhealthy habits causing her to gain a lot of weight. She became very uncomfortable with who she had become until her turning point came unexpectedly last spring and she knew something had to change.
Shannon's daughter, Adrianna, has Cerebral Palsy and moves with the assistance of a wheelchair. Her best friend had the idea to show Adrianna what it felt like to "run" by getting her a push chair and run races together. Shannon thought this was a great idea. However, when the chair arrived she felt saddened. Why? Shannon didn't want to be a cheerleader on the sidelines just watching her best friend and daughter – she wanted to be in the race and be a part of the experience.
Shannon's best friend challenged her to post a declaration on Facebook, so she wrote,"Sometimes in your life you come to a point that you make a life changing decision. I am now at that point. I am a 41-year-old, obese, diabetic woman, and as much as I wish I wasn't, I am. I am nearly 100 pounds overweight and I know that many health issues are in my future, if I continue living the way I do. I love food... all food and I don't take the time for myself to exercise. I am sharing this with you, my dear friends, because I am beginning a journey to a healthier me."Shannon went on to share her goals and her desire for the support of her friends and family on her "Project Me." She was overwhelmed by the response.
Shannon contacted our office, Rivertown Chiropractic, and inquired about our 8 Weeks to Wellness (8WW) program, which she now claims would turn out to be, "one of the best decisions she has ever made." After joining the program, she was equipped with a team of professionals who worked together to guide her toward a healthier lifestyle. Shannon was empowered to take responsibility for her own well-being through chiropractic care, purposeful exercise, relaxing massage, calming mediation and healthy nutrition. She describes our staff as "encouraging and informative." Given her crazy schedule, she was relieved that we were flexible with her appointments and cheered her on every step of the way.
The 8 Weeks to Wellness program taught Shannon to think about what she is eating and to visualize the appropriate portion sizes. She learned to enjoy eating healthier foods. She stopped drinking colas and now drinks water. She enjoys sweets and carbs in moderation and avoids all processed foods.
Shannon is now committed to her exercise and loves working out under the supervision of our personal trainers. This summer, one of her dreams came true. She ran in that race with her best friend and her daughter, Adrianna!Now they look forward to running many more races together in the future.Because of the positive changes in Shannon's life, she and her family were able to enjoy their recent trip to Disney World even more.
Shannon has already lost 30 pounds and strives to set a good example for her children, so that they too will develop healthy life-long habits. After just 8 weeks, Shannon is on her way to meet her "Project Me" goals and she is better prepared to continue to make healthy choices for a healthier life!
We want to see more stories like Shannon's.You are invited to attend our free 8WW orientation to learn more about starting your own journey toward a healthier you and see why this program works so well.We are also extending another amazing offer. We are offering our signature Wellness Score and new patient exam for just $27 so that we can assess your current health status.This testing is normally $150 and includes body composition testing, posture analysis, nerve testing, a fitness assessment, and any necessary x-rays. (Unfortunately, we are not permitted to extend the exam offer to participants of federally-funded programs such as Medicare/Medicaid.)
Please call right away because this offer will expire on February 28, 2015.
Our office, Rivertown Chiropractic Wellness Center is located at 401 East 2nd Street.Our phone number is 812-273-4325 (HEAL).Call today to schedule your appointment.
Dates of upcoming orientations:
January 19th, February 2nd, or 16th at 5:30 p.m.
January 23rd, February 13th, or 27th at 12:45 p.m.