Services

Spinal Adjustments
This is a chiropractic treatment that comes in numerous different forms. The important thing is that the adjustment restores the bone or joint back to its proper place and proper motion and removes the pressure from the nervous system. This is a process that takes time because these areas must be retrained. Which technique or techniques used to provide the adjustment will be decided as you go through care.


Wellness Program
This program addresses fitness, nutrition and overall wellness. With multiple levels of training to choose from there is an option for everyone. Our trainers are here to help you meet your wellness goals.
Zerona Fat Loss Laser
Erchonia's Zerona Z6 is a full body fat loss treatment that allows clients to target areas of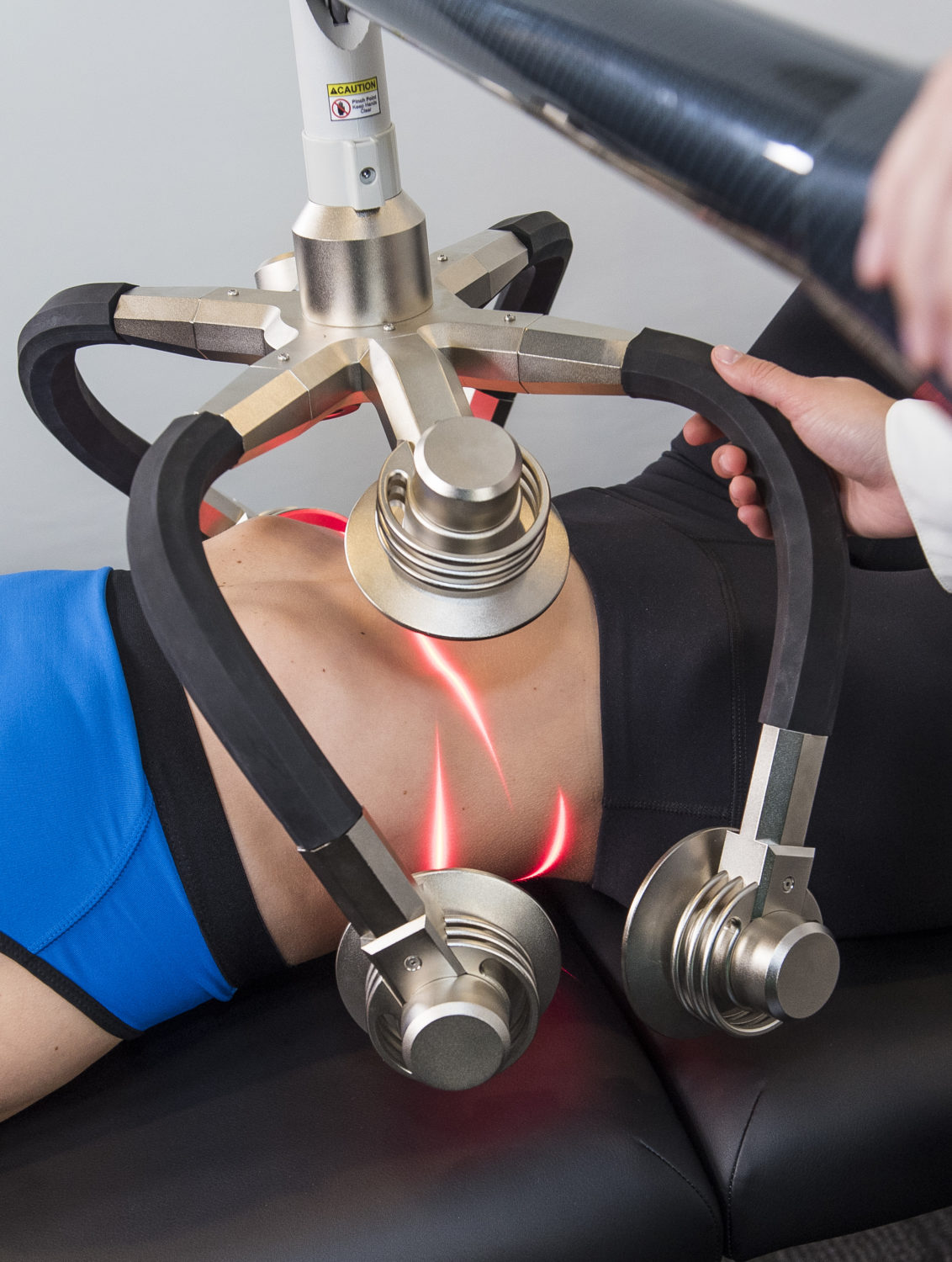 stubborn fat, and is the first laser specifically designed for body contouring. The technology is FDA Market-Cleared, non-invasive, pain free and clinically tested. Applied externally, the laser targets excess fat by emulsifying fatty tissue through the use of cold laser technology developed by Erchonia. It provides an alternative fat loss treatment with zero downtime and without the adverse side effects associated with surgical and other weight loss procedures like liposuction and body wraps.
Low Level Laser Therapy
PL Touch Low Level Laser Therapy (or photobiomodulation therapy) uses lasers to provide patients with relief from chronic pain by altering cellular function. Low Level Laser Therapy puts energy into injured cells to heal and regenerate. Low-level lasers can increase ATP and reduce oxidative stress. Cell metabolism improves, allowing patients to heal quickly from a variety of issues such as:
Chronic Low Back Pain
Chronic Neck and Shoulder Pain
Plantar Faciitis
Chronic Musculoskeletal Pain
Carpal Tunnel
ADD/Autism
Infrared Sauna
Infrared saunas can produce the same infrared heat produced by the sun that is required for all living things for optimum health. This radiant heat increases the thermal energy in joints, muscles, and tissue. Infrared heat is all around us and comes from sources like fire, heated sand on the beach and the sun. Just as visible light has a range of wavelengths, so does infrared light. Benefits include:
Detoxification
Weight Loss
Lower Blood Pressure
Pain Relief
Improved Circulation
Reduced Inflammation
Cell Health
Wound Healing
Anti-Aging Properties
Surface EMG
This exam assess the function of your nervous system. This will tell us how effectively your brain and body are communicating through the nerves. Without this proper communication , your body cannot heal, repair, or function properly. This is the same test and equipment performed on all employees at NASA.


Massage
Therapeutic Massage has profound effects on physical, mental, and emotional health. Some benefits of massage include: lower blood press, reduction in stress, loosening of tight muscles, improvement of concentration, reduction in anxiety, and an enhanced self- image.



Digital X-Rays
We use a digital x-ray format to ensure the highest quality films with the lowest level of radiation. We will take any appropriate x-rays upon your first visit. This will demonstrate any structural imbalance and allow us to assess any degeneration in your spine that may be affecting your nervous system. If any problematic areas are identified , we recommend follow-up x-rays every year to update your future care needs.


Orthotics
Using Foot Leveler's techlology, we can provide customized orthotics inserts for shoes. These inserts are critical for many foot, ankle, knee, and/or hip problems. They often serve as what chiropractors refer to as "pelvic stabilizers" to help hold your adjustments and balance your leg length.


Nutrition/Supplementation
A nutritional survey will be administered to asses your personal nutrition and to figure out what supplements are missing for your daily diet.



Rehabilitative Exercises
These exercises will be used to build muscle support we are attempting to retrain. This muscle support is critical for long-term correction of your problems in the second phase of care. Some exercises will be performed in the office at first, but all are designed for you to improve your own health at home.